National Security
Adjudications
A National Security position designation means that the employee is in a low, moderate, or high risk position and has a need for eligibility to access classified national security information and/or is in a position whose duties are concerned with the protection of the nation and/or may have a material adverse impact on the national security of the United States.  These types of positions require a national security background investigation.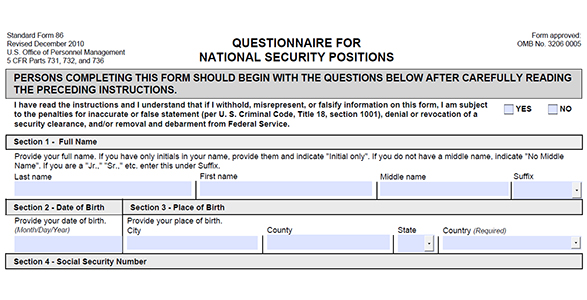 The term "security clearance" should only be used when referring to a national security position where someone needs eligibility for access to CNSI and the granting of a security clearance is needed. 
There are a variety of different types of background investigations  used and it is dependent upon the position risk level and level of access needed, e.g., Secret, Top Secret.  Some examples of initial investigations for national security positions are: ANACI, NACLC, MBI, BI, and SSBI.  Depending on the level of the investigation, they may require a personal security interview, completion of a NAC, law enforcement checks, record searches, inquiries of previous and current employment, education, residences, references, and a credit check. 
For some of these investigations sources may also be interviewed in person.  The form used for any national security investigation is the SF-86 (Questionnaire for National Security Positions).
National Security Adjudications
Executive Order 12968 (National Security) SSBI-SF-86
Allegiance
Foreign influence
Foreign preference
Sexual behavior
Personal conduct
Financial considerations
Alcohol consumption
Drug use
Psychological conditions
Criminal behavior
Handling protected information
Outside activities
Use of information technology systems
National security adjudications determine whether an individual is eligible to access classified information or perform sensitive national security duties.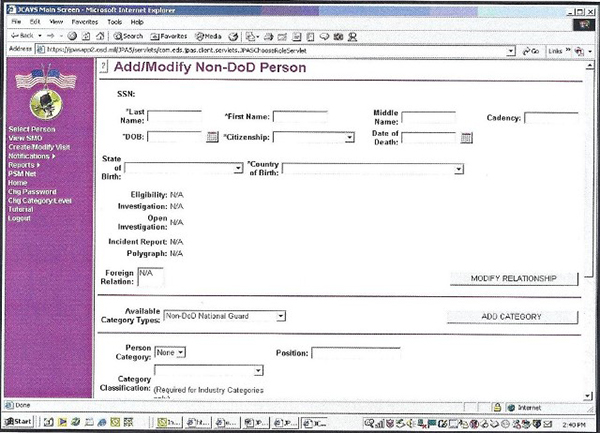 Joint Personnel Adjudication System (JPAS)
National Security Adjudication, along with HSPD-12 Adjudications, and Suitability and Fitness Adjudications (Public Trust) work together to ensure that only those individuals who promote the efficiency of the service and will protect the information and assets of the U.S. Government are appointed to Federal service and allowed to access information systems and physical locations of the government.